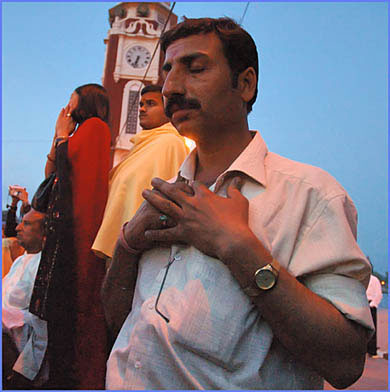 "What does 'Har-ki-Pauri' mean Sir?" I asked the elderly priest who had just finished chanting prayers. '"Footprint of the Lord" he explained. "Har" means "Lord" and "Pauri" or "Pairi" means "footprint". "The word "Haridwar" itself means "Gateway' ('dwar') to the lord ('Hari')" he added helpfully.
Situated on the banks of the holy Ganges, Haridwar is one of the most important religious places in India. Tradition has it that every pious Hindu must visit Haridwar at least once in his lifetime. A dip in the Holy Ganges in Haridwar, if performed with humility and a spirit of repentance, is said to clear one of all his sins. It is also a place to pay obeisance to departed souls.
The highlight of Haridwar is the "Ganga Aarti" that is performed every evening at about 6 pm. One can sense the build-up of anticipation and excitement as thousands of piligrims occupy vantage positions in a discliplined manner. There is a perceptible silence as the devotees eagerly wait for the prayers to begin.
When the prayers begin, it is spectacular to see the thousands of devotees chanting prayers in unison, the whole place lit by the divine light of thousands of oil lamps. After the conclusion of the prayers, priests walk around the devotees offering blessings from the holy flame.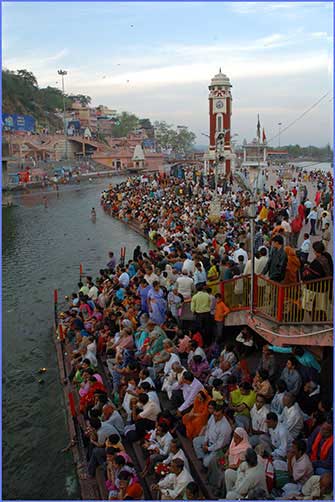 There is an interesting mythological story which adds to the mystique and charm of Haridwar. Legend has it that when the universe was being formed and the gods were churning the nectar of immortality in the heavens, a drop of the nectar fell on Haridwar, transforming it into a place of divinity and tranquility.
In contemporary times, Haridwar has great importance as a place for spiritual pursuits. The serene atmosphere in and around the holy town is very conducive for those seeking purification of the mind and body.
Haridwar is also the venue for the Kumbh Mela which is held once in three years in four different locations. The Kumbh Mela is due to be held in Haridwar in March-April 2010.
Haridwar has, unfortunately, not escaped the ravages of being one of the most popular religious destinations is one of the most populous countries of the world. All the problems of unplanned urbanisation are visible in Haridwar though because it is one of the first major towns that the Ganges passes through when it descends from the mountains, the holy river is relatively cleaner.