Buy When Blood Is On Streets! Rajiv Jain's GQG Partners, which bought truckload of Adani Group stocks during the Hindenburg crash, has effortlessly made Rs 10,000+ Crore gain in just few months
Rakesh Jhunjhunwala, Warren Buffett, Peter Lynch and other eminent investing Gurus constantly advie us to buy stooks when "blood is on the streets", i.e. when the stocks are bruised and battered due to reasons not attributable to fundamentals.
GQG Partners, which is founded by Rajiv Jain, followed this advice to the core when the stocks of the Adani group plunged due to the allegations made by short-seller Hindenburg Research against the Group.
GQG Partners bought the stock when the Supreme Court directed SEBI to conduct an investigation to ascertain if the Adani group had violated market norms. The fear and uncertainty was at its peak.
The Fund bought 38,701,168 shares of Adani Enterprises at Rs 1,410.86 for Rs 5,460 crore. It also bought 88,600,000 shares of Adani Ports shares at Rs 596.20 for Rs 5,282 crore. 55,600,000 shares of Adani Green Energy were bought at Rs 504.60 for Rs 2,806 crore. 28,400,000 shares of Adani Transmission were bought at Rs 668.40 for Rs 1,898 crore.
According to an article in BT in March, GQG Partners' investment of Rs. 15446 crore had surged to Rs 25000 crore and there was an unrealized gain of Rs 10,000 crore.
The savvy investing Fund added more shares in June 2023 by buying from the promoters. It bought 18 million shares or 1.58% of Adani Enterprises Ltd from the SB Adani Family Trust for ₹4,140 crore. The shares were acquired at ₹2,300. It also acquired 46 million more shares of Adani Green Energy, representing a 2.9% stake, worth ₹4,232 crore. The acquisition was at ₹920.
"We are very bullish on the group as it is playing a very important role in infra buildout for India. We want to be strategic partners in helping India build world-class infrastructure," Rajiv Jain told Mint.
He added that cheap valuations, mid-teens growth expectation, earnings predictability, less risk, and no meaningful substance in the short seller reports led him to buy a stake in four out of the 10 listed Adani Group companies.
Needless to say, the allegations made by Hindenburg Research are a distant memory now especially after the Supreme Court-appointed panel gave a clean chit and stated there is no regulatory failure or price manipulation in the Adani group's stocks or violation of minimum public shareholding rules.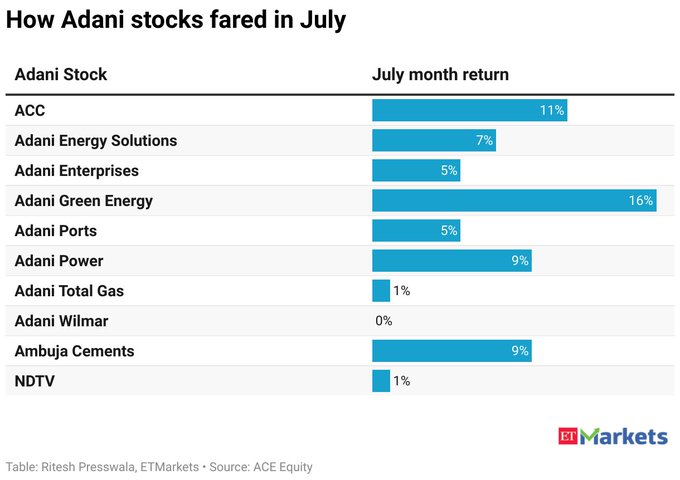 "The allegations from the Hindenburg episode have been thoroughly dismissed by the market, and investors are shifting their attention to the improving valuations amid strong growth prospects for the group," an expert said in the ET.
Experts are very bullish about the Adani group stocks.
"Adani Port is the most robust company in terms of cash flow and the business moat it represents. They have created a very convincing business model. Between the east shore and the west, they have got almost more than 15 ports into their portfolio now, not including the overseas port acquisition that they have done. I would think that this is one strategically built business which is basically taking care of the entire logistic part of the activity and for the group's all the businesses", Deven Choksey opined in the ET.
"Adanis are in a monopoly business which is roaring. All the companies are doing well and we added two names, ACC and Ambuja and the third was Adani Port and they have paid handsome returns," Sanjiv Bhasin stated.