If you are moping about the losses that your stock portfolio suffered from the Bear attack, take heart from Rakesh Jhunjhunwala who has suffered crippling losses but is still bullish on the markets
Rakesh Jhunjhunwala put up a brave fight but in the end the relentless Bear attack took its toll.
When we last checked Rakesh Jhunjhunwala's portfolio in the midst of the bear attack, he was still standing with his head above water and had salvaged gains of Rs. 129 crores (see Rakesh Jhunjhunwala's Portfolio Ekes Out Rs. 129 Crore Gain).
However, all that is history now. The Bears, emboldened by the downgrade of the US economy from AAA to AA+, launched a savage attack on the global markets in August 2011. The attack was so savage that the Nifty plunged from 5527 on 1st August 2011 to 4859 on 19th August 2011, a fall of 668 points or 12% in just 14 working days.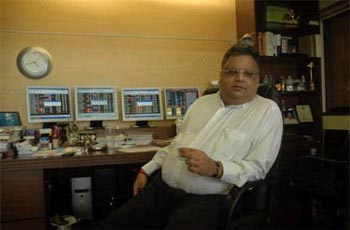 Rakesh Jhunjhunwala's stock portfolio bore the brunt of the savage Bear attack with his wealth being plundered by Rs. 316 crores (since January 2011).
The biggest culprit in the portfolio was Hindustan Oil Exploration Company (HOEC) which meekly handed over Rs. 87.85 crores to the Bears. With this, 51% of the hard-earned money invested by the master investor in Hindustan Oil Exploration Company (HOEC) was squandered away.
Rakesh Jhunjhunwala has faithfully held onto Hindustan Oil Exploration Company (HOEC) for nearly 10 years now but it has never rewarded him. Hindustan Oil Exploration is engaged in oil exploration and has 10 petroleum blocks in Assam and north east. It also has 2 blocks in Assam and Gujarat also for gas. Hindustan Oil Exploration Company (HOEC) is expected to increase its gas production from 1.4 mmcsd to 2.5. However, despite all the positives, Hindustan Oil Exploration Company (HOEC) has always disappointed the master.
Karur Vyasa Bank was second in the list of losers with a mammoth 65.70 crores shaved off. Of course, Karur Vyasa Bank, which is the apple of Rakesh Jhunjhunwala's eye, was not at fault for the losses. The entire banking sector has been in the doldrums owing to the rising interest rates and Karur Vyasa Bank is an inncocent victim of this.
Third in the rogues gallery was Bilcare, a stock which Rakesh Jhunjhunwala once thought would give "mind boggling returns". Instead of "returns", Bilcare plundered him and left him poorer by Rs. 65.63 crores.
Even Lupin, which is Rakesh Jhunjhunwala's darling stock let him down and lost Rs. 52.38 crores though it must be said to Lupin's credit that it did put up stiff resistance and gave away only 9.59% of his wealth.
Geojit BNP Paribas is the Bakwas stock that we can't understand what Rakesh Jhunjhunwala likes about. This worthless stock squandered Rs. 47.90 crores constituting 44.22% of Rakesh Jhunjhunwala's investment.
The other big losers in the portfolio were the usual suspects NCC (Rs. 47.90 crores), Orchid Chemicals (Rs. 33.63 crores), A2Z Maintenance (Rs. 22.14 crores) and IFCI (Rs. 22.08 crores).
Geometric, a stock that Rakesh Jhunjhunwala recently publicly shamed by calling it a "disaster", lost Rs. 20.33 crores being 53% of the investment amount.
Rakesh Jhunjhunwala also had some reasons to smile. His all-time favourite stock, his "crown jewel", Titan Industries showed the mettle that it is made of. Despite the savage Bear attack, Titan Industries rewarded Rakesh Jhunjhunwala with a handsome gain of Rs. 124.37 crores. CRISIL, Rakesh Jhunjhunwala's trusted lieutenant in times of crises, also came to his defence with gains of Rs. 101.40 crores. VIP Industries and Rallis, Rakesh Jhunjhunwala's trusted stocks, came out with all guns blazing and salvaged Rs. 27.98 crores and Rs. 14.21 crores respectively.
At the end of the day, Rakesh Jhunjhunwala became a billionaire because of his incredible ability to hold onto his emotions even when he is deep underwater. In the great economic crises of 2008, when all other investors had lost their heads and sold off in panic, he keep his cool and instead of mindlessly selling, Rakesh Jhunjhunwala started accumulating stocks of well managed companies. The result was that when the crises ended, he made a gain of Rs. 1,000 crores (see Rakesh Jhunjhunwala's holding earns Rs. 1,000 crores).
The same is the story of Warren Buffett who in the great economic crises of 2008 lost a phenomenal sum of 3 Billion Pounds (see The man who has lost £3bn in the recession admits: 'I did some dumb things in 2008'). However, Warren Buffett also used the crises as an opportunity to tank up on quality stocks.
So, the lesson to learn from master investors like Rakesh Jhunjhunwala and Warren Buffett is that times of crises like the present one present a historical opportunity and should be used to buy the stocks of well managed blue chip companies at bargain basement prices. Then, when the crises ends, these stocks will be the first to rebound and reward the investors handsomely for their patience and trust.
Rakesh Jhunjhunwala Stock Portfolio Suffers Loss Of Rs. 316 crores