We peep into Radhakishan Damani's stock portfolio and discover that his secret to get multi-baggers is very simple – invest in stocks of companies with strong fundamentals and competitive advantage and wait for compounding to work its magic
Radhakishan Damani is an enigma because when you search for his photo in google, you get the startling reply "No results". This happen very rarely at google and when it does, you know you are dealing with someone special.
It is said of Radhakishan Damani that he is always dressed in white clothes and that he always maintains a quiet and unassuming personality. He is reclusive and prefers to keep anonymous and dresses so simply that you wouldn't even notice him if he walked past you.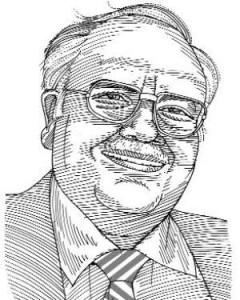 Radhakishan Damani's tryst with VST Industries, as reported in moneycontrol.com caught our imagination. The story of how Radhakishan Damani got a multi-bagger out of VST Industries is the stuff of dreams particularly because VST Industries is, owing to its high dividend yield and "moat", in our list of favourite stocks (see 5 High Dividend Yield Stocks For Your Portfolio).
Radhakishan Damani, moneycontrol.com reports, had a big chunk of VST Industries' stock (15%) in 2001 which he had accumulated over the years at the price of Rs. 88 per share. In his desire to take control over VST Industries, Radhakishan Damani, through Bright Star Investments, bought more shares of VST Industries at an average price of Rs. 300. Radhakishan Damani now holds a staggering 25.95% of VST Industries for which the total investment is, as calculated by moneycontrol, around Rs. 63 crores. This investment is, at today's VST Industries' CMP of Rs. 1,350, worth – hold your breath – a staggering Rs. 520 crores giving Radhakishan Damani a 8 times return on his investment in less than 10 years. How's that for a multibagger!
Of course, thanks to VST Industries' high dividend payout, Radhakishan Damani has already received about Rs. 71 crores as dividends in the last 10 years.
Radhakishan Damani's two other recent investments with Rakesh Jhunjhunwala are Delta Corp and Sterling Holiday Resorts.
Radhakishan Damani other major stock holdings are in blue chips like 3M India, CRISIL and Sundaram Finance, Gillette India, HDFC Bank, Nestle.
Radhakishan Damani's investments reveal a common thread. All of the stocks are run by well known & competent managements and have a sort of "competetive advantage" which gives them a "moat".
VST Industries, for instance, operates in the cigarette industry, where there is no danger of fresh competition coming in.
Radhakishan Damani's choice of CRISIL, which is also Rakesh Jhunjhunwala's favourite stock, makes sense because CRISIL operates in a duopoly in India and enjoys a market share that competitors cannot dilute.
Radhakishan Damani's stock pick in Gillette also reveals the same sort of thinking in investing in stocks with a strong brand and competitive advantage. Gillette is also Warren Buffett's favourite stock and he went on record saying that he loved Gillette because "There is something very comforting in knowing that millions of men would go to sleep in the night and wake up in the morning needing Gillette's razors to shave off their facial hair".
Radhakishan Damani's investments in 3M India, HDFC Bank and Nestle can be explained by the same logic – A strong brand and competitive edge coupled with efficient and forward-thinking managements.
Needless to say, each of the aforesaid stocks in Radhakishan Damani's portfolio have been multi-baggers several times over.
Radhakishan Damani's recent investments in Delta Corp and Sterling Holiday Resorts also fall in the same mould. As Rakesh Jhunjhunwala explained, Delta Corp (see Why Is Rakesh Jhunjhunwala "Very Excited" About Delta Corp?) enjoys the first mover advantage in the highly lucrative gambling Industry while Sterling Holiday Resorts (see Rakesh Jhunjhunwala's 5 Reasons To Buy Sterling Holiday Resorts) has created an infrastructure of holiday homes in 14 exotic locations that a competitor cannot replicate easily.
The more one thinks about it, the more convincing it seems to be that the best way to get multi-baggers (or at least a reasonable return on one's investment) is to invest in the stocks of companies with strong fundamentals and good competitive advantages and wait for the laws of compounding to do their trick. Our own experience shows that a blue chip compounding between 15 to 25% p.a. becomes a multibagger in just a few years with the dividends being an added benefit (see Blue Chips Stock Portfolio: Compounding Multi-bagger).
Radhakishan Damani's multibagger stock portfolio picks