Eminent luminaries like Ajay Relan, Prakash Diwan, Lashit Sanghavi, Nikhil Vora etc had backed a stock touted to be the "next Page Industries". Unfortunately, the promoter has gone missing and investors are now in the lurch
Ashapura Intimates will give pleasant surprise three years later
The description of Ashapura Intimates as the 'next Page Industries' was not made by an overenthusiastic novice punter like me but by distinguished luminaries at the MMB forum.
"Mein likh ke deta hoon ke Ashapura Intimates next Page Industries hain", Madan Kaka, a distinguished silver member said.
He paused to load more Kamala Pasand Gutka into his mouth.
"Is stock mein woh sabhi khubiyaan hain jo ek multibagger mein hota hain," he continued.
"Be-jhijhak stock le lo," he advised the other punters who were staring at him admiringly.
The confidence of Madan Kaka and the other punters in Ashapura Intimates was derived from a buy recommendation issued by Ajay Relan in Outlook Business.
Ajay Relan is a venture capitalist with CX Partners and is well known for his visionary approach in identifying hidden gems.
He has several mega multibaggers under his belt.
He described Ashapura Intimates Fashion as the story that 'dreams are made of' owing to the achievements of Harshad Thakkar, its promoter.
Harshad Thakkar single-handed created Ashapura Intimates into a behemoth dealing with women's innerwear.
After a brilliant analysis of the strengths and weaknesses of Ashapura Intimates, Ajay Relan advised investors to "hold this stock and forget about it".
"I am confident that it will offer a pleasant surprise when you revisit it three years later," he opined.
Ashapura has its own brand while Page Industries does not
Prakash Diwan of Altamount Capital Management hinted that Ashapura Intimates is in some ways better than Page Industries.
"This is one company that has created a wonderful brand for itself called Valentine in the lingerie business unlike Page Industries which manufactures for another brand," he said.
He also pointed out that Ashapura Intimates is quoting at rock bottom valuations compared to its arch rivals.
"You compare it with any of the other lovables and Page Industries, it is still available at 1/5 th of the valuations," he stated.
Luminaries storm into the stock
The confidence of Ajay Relan and Prakash Diwan was shared by other luminaries like Lashit Sanghavi, Neha Sanghavi and Nikhil Vora.
Each bought a massive chunk of the stock for their own portfolios.
Several other distinguished investors like DSP Blackrock Midcap Fund, Usaa Mutual Funds Trust, Emerging Markets Fund, Bennett, Coleman, Moneywise Financial Services etc make up the roster of shareholders.
MMB punters sound red alert over disappearance of Harshad Thakkar
The punters at MMB are famed for their vigilance in all matters relating to the stock market.
They were the first to notice that something is amiss at Ashapura Intimates and that Harshad Thakkar is AWOL.
This led to an investigation being conducted by the sleuths of DNA, which revealed that Harshad Thakkar appears to have indulged in circular trading in the stock of Ashapura Intimates.
He apparently borrowed heavily from lenders like IIFL Securities, India Infoline Finance Ltd (IIFL) and Prabhudas Lilladher on the pledge of his shareholding and invested the money in buying more shares.
However, when the stock price continued to crash and he couldn't increase the margin funding, the lenders invoked the pledge and dumped the stock, sending the stock on a downward spiral.
Is it a case of suicide?
Mumbai Mirror got its hands on a note allegedly written by Harshad Thakkar.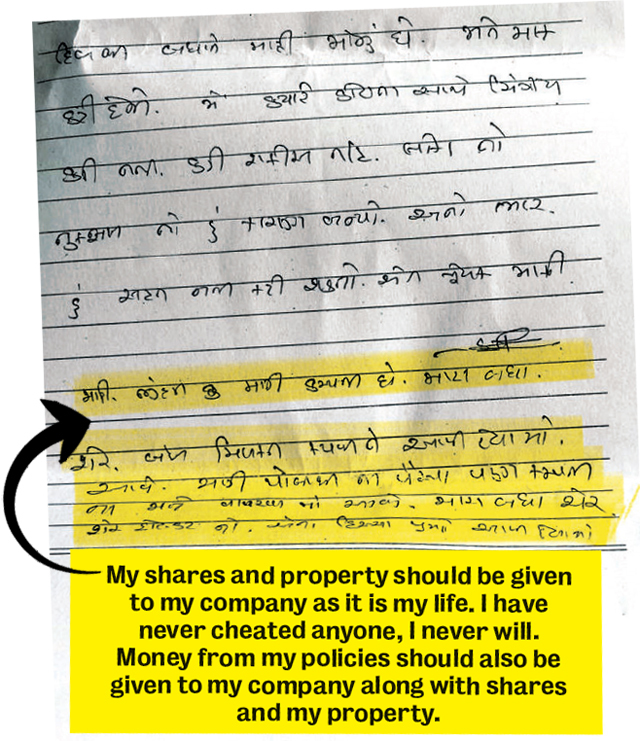 The note reads as follows:
"I have received many calls from lot of people, and I have learnt because of increased distrust in the market, people around me started loosing their trust on me.
I have devoted my whole life to my share holders and my company.
I have given my own house, my savings to save this company but even after that because of few people of share market have tricked our company.
Now there is nothing left with me accept myself. I kept my house mortgage and tried to save our company.
I have given everything that I have already to the company.
I have lost everything, I feel I am looser. This company is my life and I have lost everything.
I am sorry for this events and I take full responsibility for the same.
All my small assets and my share also my policy to be given to my company. This is my last wish."
Cops are on the trail
The Indianexpress reported that the police are hot on the trail of Harshad Thakkar though they haven't made much headway yet.
Apparently, Harshad Thakkar left behind his mobile phone and wallet.
"We have gone through the footage of several CCTV cameras and questioned many people but have not got any clue. The fact that he had left behind his cellphone and wallet has made it all the more difficult for us to track him down," the cops were quoted as saying.
Stock tanks
Naturally, in this sorry state of affairs, nobody is in the mood to hold on to Ashapura Intimates for even a second.
The stock has been on a vertical free-fall.
It has lost 81% of its value in the last three months.
There is a loss of nearly Rs. 800 crore of market capitalisation.
Will IIFL bail out Ashapura?
When I last checked, there was a sombre mood at MMB. However, the punters are not prepared to give up.
Some pointed out that IIFL and Prabhudas Liladhar now own about 32.93% of Ashapura Intimates' equity capital as a result of the invocation of the pledge.
So, they can approach the National Company Law Tribunal (NCLT) and take over Ashapura Intimates by replacing the Board of Directors with their own nominees.
They may have to make an 'open offer' to the minority investors and buy their stock at the prescribed price.
If that happens, the beleaguered investors will have a god-sent opportunity to recover some of their hard-earned money from the junkyard company!