Manish Chokhani of ENAM has opined that the market crash has created exciting opportunities for intrepid investors because many high-quality stocks are now at mouth-watering levels. He has advised us to start tucking into them ASAP
Even market veterans spooked by ferocity of crash
Today was a nerve wracking day for everyone at Dalal Street.
Even the veterans were shaken by the ferocity of the crash.
HDFC Ltd, which is regarded as the Mother of all Blue-Chips, crumpled like a leaf and plunged 11%, shedding massive amounts of market capitalisation.
HDFC Bank, which is respected by one and all for its credentials as a powerhouse stock, also nosedived 10%.
The worst part is that the FMCG giants like Nestle, Asian Paints, HUL etc, which have so far stood tall and defiant, buckled down in the wake of the intense selling pressure.
Even the blue-chip InfoTech behemoths, TCS and Infy, took it on the chin and lost massive chunks of their valuation.
It is obvious that heavy-duty foreign investors are desperately off-loading their portfolio holdings.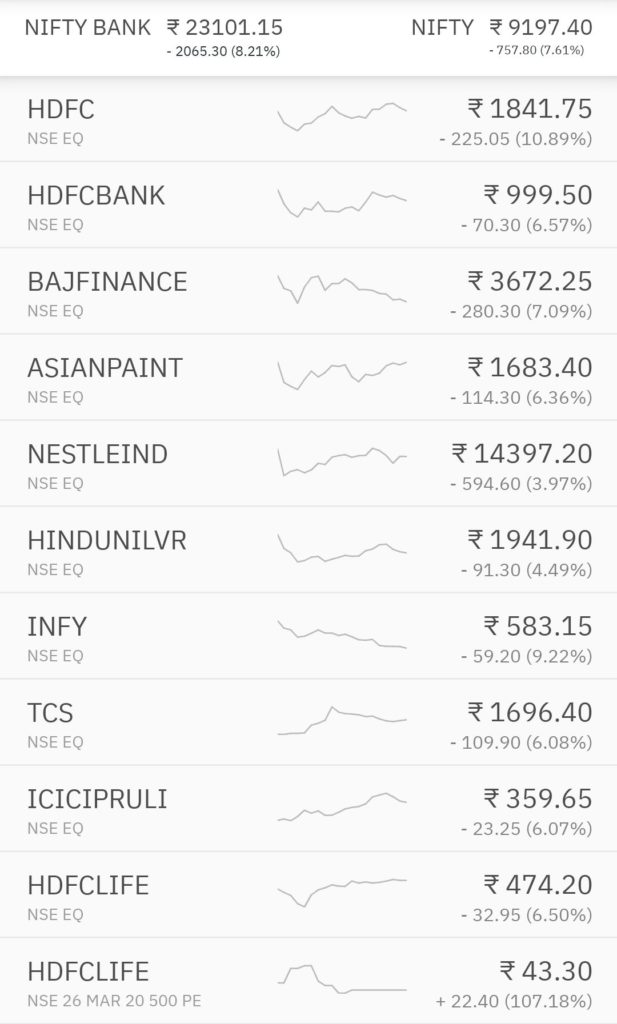 Investors on Wall Street are also facing a torrid time.
The Dow Jones and the S&P 500 nosedived 10% and tripped the lower circuit.
BREAKING: Dow Jones plummets nearly 10% at opening. https://t.co/rsJN0BRtTv pic.twitter.com/tRg1NhaB4t

— ABC News (@ABC) March 16, 2020
Yes Bank shorters crushed
However, while all other shorters were jumping in joy, shorters of Yes Bank were sporting glum faces.
This is because the sudden decision of the authorities to boot Yes Bank from the F&O list turned the tables on them.
There was a desperate rush to square off the shorts which led to a textbook example of a "shorts squeeze".
In the melee, the stock surged a massive 45%.
What is causing a massive short-squeeze in #Yesbank shares… my story in @businessline https://t.co/YcEG175NMj

— Palak Shah (@palakshahJourno) March 16, 2020
When the going gets tough, the tough get going
"If you had asked me a month ago whether HDFC Bank would be available at Rs. 1,000, my answer would have been no", Manish Chokhani said, his eyes wide open in bewilderment at the sorry state of affairs.
Yet, the fact is that HDFC Bank is today languishing at Rs. 999 and there are no takers.
"I would much rather buy a better business at a better price," he added, implying that HDFC Bank is a no-brainer buy at this stage.
It is explicit from Manish Chokhani's advice that we can also tuck into powerhouses like Nestle, Colgate, Bata, Asian Paints, Pidilite etc given that they have a stranglehold over the market place and a dominant franchise.
Manish Chokhani also pointed out that PSU stocks are presently at the point of "maximum pessimism".
Their valuations are at throwaway levels even though they offer massive yields of dividends (see Latest List Of High Dividend Yield Stocks).
If the Government is able to successfully divest its stake in BPCL and Concor, investors will make a beeline for the other PSU stocks, he opined.
Investors who buy the PSU stocks today and wait a couple of years can take home 3x to 4x multibagger gains, he added.
Manish Chokhani also advised us to look at commodity stocks which are at beggarly valuations today owing to the slump in demand from China.
Some obvious branded commodity stocks which can prosper are cement stocks like Ambuja Cement, Ultratech, ACC etc.
Cement is obviously a commodity for which there will be no dearth of demand.
We can also consider steel stocks like Tata Steel, Jindal Stainless Steel etc if we are feeling adventurous.
Yet another avenue of investment are the companies which will prosper from the disruption in China.
Foreign companies, which were hitherto relying exclusively on China for their production requirements, will obviously realize the folly of doing so.
Specialty chemical and Pharma stocks like Sudarshan Chemical, SRF, Divis Labs etc appear to be candidates that deserve consideration from us.
#CopingWithTheSellOff | Should you nibble into this fall? Here's a list of what @chokhani_manish of Enam Holdings likes. Listen in! pic.twitter.com/vtRzsMn4d5

— ET NOW (@ETNOWlive) March 16, 2020